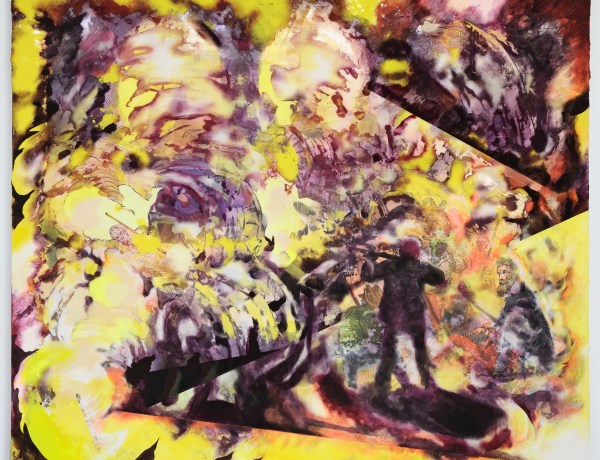 Washington Post: In the Galleries - Rush Baker IV
By Mark Jenkins
April 15, 2022
History is mostly submerged, but occasionally visible, in Rush Baker IV's recent paintings. "American Sunset," the Hyattsville painter's show at Hemphill Artworks, was partly inspired by Tony Horwitz's book "Midnight Rising: John Brown and the Raid That Sparked the Civil War." The results include three canvases titled "Harpers Ferry" and one called "John Brown."
Baker paints with acrylics, augmenting the brightly hued pigment with plaster and resin, and sometimes paper and spray paint. He layers the materials, sands the surface and then repeats the process multiple times. "It's a matter of adding and subtracting compositional elements until the painting reveals itself to me," the artist says in an interview published by the gallery.

Click here to read more.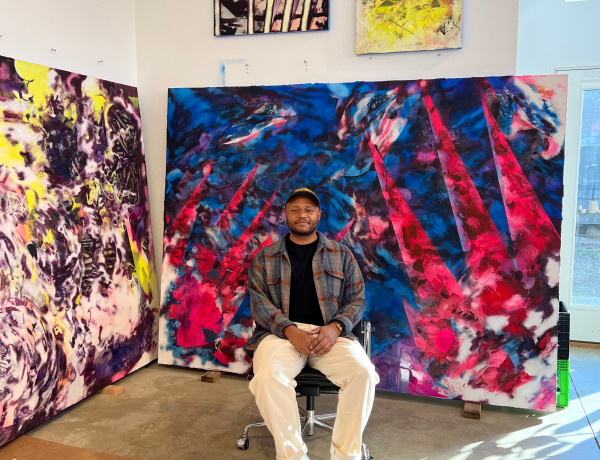 Rush Baker IV: American Sunset Interview
Interview with George Hemphill
Exhibition on view March 19 - April 30, 2022
HEMPHILL is pleased to share an interview with Rush Baker IV conducted by George Hemphill on the occasion of the exhibition American Sunset. Please find an excerpt below.
George Hemphill: Often, the organization of the picture plane in your paintings has circular movement, a spinning, a feeling of centrifuge, of things coming apart?
Rush Baker IV: Yes and no. It's more of a reorganization of elements. It's organized chaos. The collaged elements usually give the works a certain compositional structure. The initial layering of paint and plaster act as a disruption of that language, and then it's a matter of revealing what the painting really wants to be. The gestures, especially in the larger works, mimic the movement of my physical range of motion.