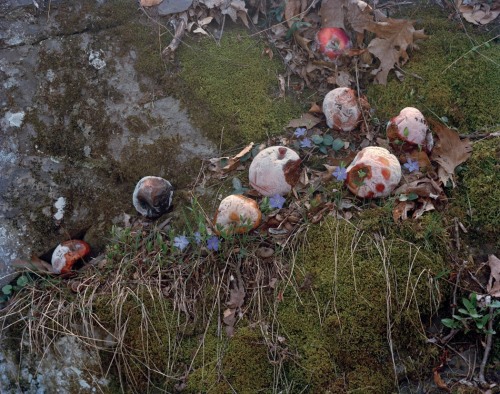 Tanya Marcuse received her B.A. in Art History and Studio Art from Oberlin College, and her M.F.A. in Photography from the Yale University School of Art. Her photographs are in numerous museum collections including the San Francisco Museum of Modern Art; the Metropolitan Museum of Art; the National Gallery of Art, the George Eastman House, the Yale Art Gallery; the Beinecke Rare Book and Manuscript Library at Yale; and the Library of Congress. Marcuse has published three books with Nazraeli Press: Wax Bodies (2011), Fruitless (2007), and Undergarments and Armor (2005). She is working on a book of her new series with Radius Press. Her work has been featured and reviewed in numerous publications, including Cabinet Magazine, New York Magazine, The New Yorker, Artforum, Artnews, The LA Review of Books, and The New York Times.
Recent exhibitions of Marcuse's works include solo shows at the Francis Lehman Loeb Art Center at Vassar, and the Davison Arts Center at Wesleyan. Her work was featured in "Dress Codes: The Third Triennial of Photography and Video" at the International Center for Photography, "Heroines" at the Thyssen-Bornesisza Museum in Madrid (curated by Guillermo Solana), and "Love and War" (curated by Valerie Steele) at the Museum of the Fashion Institute of Technology.
Marcuse won a Guggenheim Fellowship in 2003 to pursue her project Undergarments and Armor. She has also held the Thomas J. Watson Fellowship, the George Sakier Memorial Prize for Excellence in Photography (Yale), a John Anson Kittredge Award (Harvard), as well as two fellowships from the Center for Photography at Woodstock. She was a 2008-2009 finalist for the Real Photography Award, an international award for contemporary photography.